Tours Info
_______________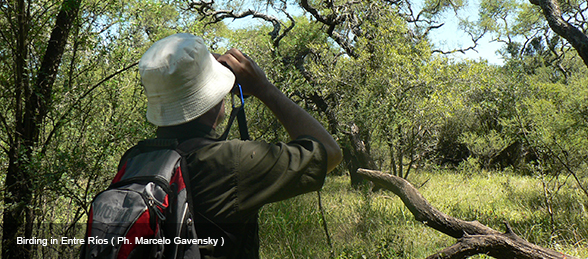 Birding BA tours are designed to fulfil your needs and therefore they are open to change.

We offer special prices for groups and organize programed groupal tours for locals. Information regarding the programmed tours can be found in our Facebook profile "Birding BA Tours".

We also offer tour packages that include birding outings, transportation (including airport-hotel transfers) and accommodations at hotels for different budgets.

Please contact us for more information regarding tours, prices or anything you need to know about birding in Buenos Aires.

____________________________________________________________________________________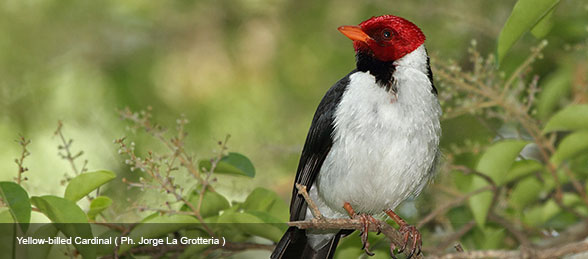 BA URBAN TOURS

COSTANERA SUR ECOLOGIC RESERVE
The tour starts in the hotel or in one of the reserve's main entrances at the agreed hour (preferably early in the morning). We will walk along the main paths of the reserve, looking for the most remarkable species in the area, by using our sight and hearing. The tour will conclude at noon. Total hours: 4 (approx.). Costanera Sur reserve does not opens on Mondays.

COSTANERA SUR & VICENTE LÓPEZ ECOLOGIC RESERVES
The tour starts in the hotel or in one of the reserve's main entrances at the agreed hour (preferably early in the morning). We will walk along the main paths of the reserve, looking for the most remarkable species in the area, by using our sight and hearing. At noon we can either continue the tour or make a stop for lunch in front of the reserve. After lunch we will move to Vicente López reserve, located in the north of "Gran Buenos Aires" urban area (30-45 minutes by car). There we will be looking for aquatic birds and riverside forest's species. After that we will return to the hotel where the tour concludes. Total hours: 5 to 7 (approx.). Costanera Sur reserve does not opens on Mondays.

VICENTE LÓPEZ & COSTANERA NORTE ECOLOGIC RESERVES
The tour starts in the hotel at the agreed hour (preferably early in the morning) from where we will leave by car to Vicente López Ecologic Reserve. There we will be birding, looking for some aquatic and riverside forest's species for about 3 hours. Then we will return to BA city, making a birding stop of about 1 hour in Costanera Norte Natural Reserve to look for some other aquatic birds. After that we will return to the hotel where the tour concludes. Total hours: 4 (approx.).

____________________________________________________________________________________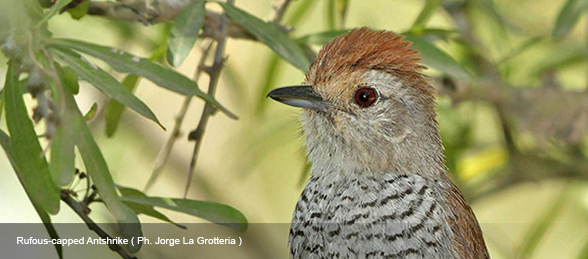 HALF-DAY TOURS FROM BA

OTAMENDI NATURAL RESERVE
The tour starts at the hotel early in the morning, from where we will leave by car or van (for small groups) to Otamendi Natural Reserve which is located about 1 hour of trip from Buenos Aires city. Once in the reserve we will be birding along the Islas Malvinas road (a public access dirt road), walking and by car, a total distance that comprises 5 km. Touring the inner trails of the reserve is also a possibility with the prior hiring of a reserve's (non-birding) guide. We will be looking for Otamendi's specialties such as the Diademed Tanager, Scarlet-headed Blackbird and the rare Straight-billed Reedhaunter, among many other species. In the afternoon we will return to BA where the tour ends. Total hours: 6 to 8 (approx.).

PUNTA LARA NATURAL RESERVE
The tour starts at the hotel early in the morning, from where we will leave by car or van (for small groups) to Punta Lara Natural Reserve, located about 1 and a half hours of trip from Buenos Aires city. In the reserve we will be birding in the inner visitors trails and in the fields, touring different types of habitats and looking for some of the reserve's specialties such as the Red-and-white Crake, Bay-capped Wren-spinetail and Diademed Tanager, among many others. We will be accompanied by a local reserve's (non-birding) guide, which is mandatory and contributes to a good quality tour. In the afternoon we will return to BA where the tour ends. Total hours: 6 to 8 (approx.).

____________________________________________________________________________________

FULL DAY TOURS FROM BA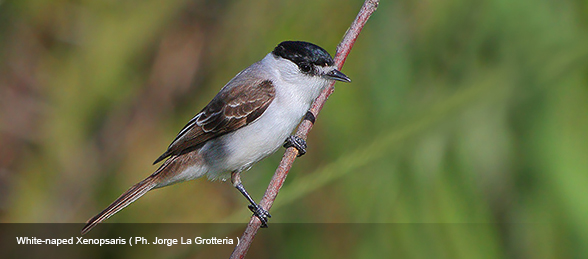 SOUTHERN ENTRE RÍOS (Best birding hotspot in the area!)
The tour starts at the hotel early in the morning, from where we will leave by car or van (for small groups) to the south of Entre Ríos province, a trip that will last about 2 and a half hours from BA city. Since this is a vast area and there is more than one birding spot for visiting, we will choose the exact destination depending on your interests and the weather conditions. The two main possibilities are Ceibas and Perdices. The first place is best for a high number of species, and the second one is the best for endangered and rare birds. Other very good places, but further away (meaning a longer trip) are Ibicuy, Gualeguay and Gualeguaychú, best recommended for an overnight tour.

The specialties that we will be looking for in these places are a lot, most of them rare or not possible to find in BA proximities, such as the Greater Rhea, Savanna Hawk, White-fronted Woodpecker, White Woodpecker, Little Thornbird, Short-billed Canastero, Lark-like Brushrunner, Brown Cacholote, Scimitar-billed Woodcreeper, White Monjita and White-naped Xenopsaris among the fairly (but locally) common ones, and the Black-and-white Monjita, Saffron-cowled Blackbird, Chestnut Seedeater and Marsh Seedeater among the rare and endangered birds. Aquatic birds are common too, with species such as Maguari Stork, Southern Screamer, Ringed Teal and Roseate Spoonbill.

At noon we will have lunch and late in the afternoon we will return to Buenos Aires, arriving in the evening. Total hours: more than 8, likely more than 12 (approx.).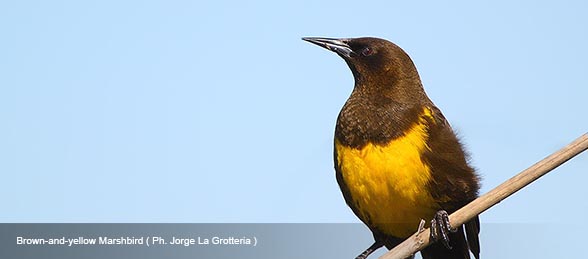 SAMBOROMBON BAY (Pampas specialties tour!)
The tour starts very early in the morning from the hotel, leaving by car or van (for small groups) to the birding area, located about 2 hours of trip from Buenos Aires city. Once we get there we will make birding stops in the road, looking for some of the Pampas specialties such as Hudson's Canastero and Bay-capped Wren-spinetail. Other grassland species include Greater Rhea, Spotted Nothura, Firewood Gatherer, Correndera Pipit, Brown-and-yellow Marshbird and White-browed Blackbird. The abundance of aquatic birds is usually notorious, with many kinds of ducks, teals, pochards and species such as Coscoroba Swan, Black-necked Swan and Southern Screamer. In the summer season there are migratory waders, like Hudsonian Godwit, Semipalmated Plover and Upland Sandpiper, while in the winter there is the possibility of finding winter visitors from Patagonia, such as the Tawny-throated Dotterel, Chocolate-vented Monjita and Austral Negrito.

Depending on the weather conditions and time availability we can visit the area of Punta Piedras and Parque Costero del Sur, one of the best refuges for the very shy Dot-winged Crake.

At mid or late afternoon we will start the way back to BA, arriving in the evening.

Total hours: more than 8, likely more than 12 (approx.).

____________________________________________________________________________________

OVERNIGHT TOURS FROM BA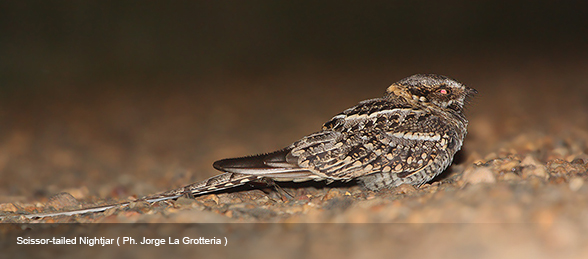 SOUTHERN ENTRE RÍOS OVERNIGHT TOUR
Spending a night in the south of Entre Ríos province increases your chances to finding the species already mentioned for the area, and many nocturnal birds such as Nacunda Nighthawk, Scissor-tailed Nightjar, Little Nightjar, Striped Owl and Great-horned Owl, among others. This way we will be visiting places such as Reserva Las Piedras in Gualeguaychú, or the fields and estancias of Gualeguay area, where more species can be added to the list, such as the White-barred Piculet, Great Antshrike, Red-crested Finch and White-rimmed Warbler.

Accommodations are available in a "chacra" (house located in a green area near the fields) and a hotel.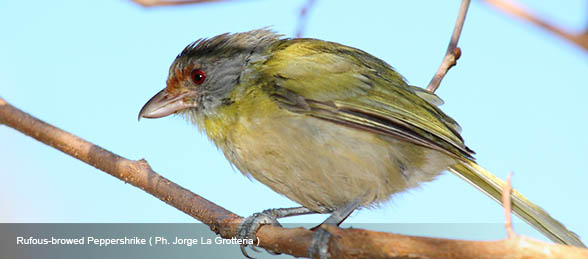 MARTIN GARCIA ISLAND OVERNIGHT TOUR
Because of the limited transportation options to get to this wonderful natural area, a tour to the island deserves spending one night at least in order to have enough time for finding most of its specialties mentioned in Martín García Island section. We will look for some of the riverside forest specialties such as the Spix's Spinetail and the Gray-throated Warbling-finch, observing also the high diversity of butterflies. At night an encounter with the Tropical Screech-owl is very likely. This is also the best place in the area for watching the Rufous-browed Peppershrike. Just the trip by ferry to this place worths the tour, since it is the best and more accessible way to have a good look of the Parana river's delta ecosystem.

Accommodations are available in a hostería (small hotel) in the island.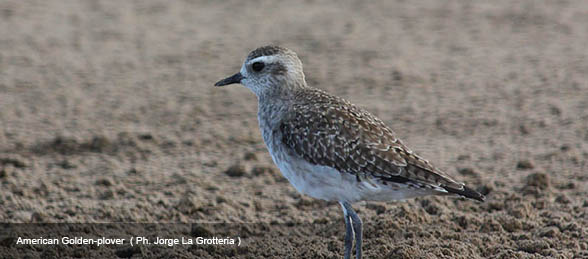 PUNTA RASA & SAN CLEMENTE DEL TUYU OVERNIGHT TOUR
These two places are located too far away from BA city for a full day outing, hence we recommend to spend at least one night in the area. We will be looking for birds such as the endangered Olrog's Gull, Pampas grassland species like Hudson's Canastero, Bay-capped Wren-spinetail and Sedge Wren, and summer visitors such as the American Golden Plover, Black-bellied Plover, Red Knot, Hudsonian Godwit and many more. Other aquatic specialties include the Chilean Flamingo, Double-collared Plover, Royal Tern and many kinds of Anatids. On the trip to the area we can get good sights of Greater Rheas too.

Accommodations are available in San Clemente del Tuyú's hotels.

____________________________________________________________________________________

ARGENTINA'S BEST BIRDING DESTINATIONS CUSTOM TOURS
In Birding Buenos Aires we offer custom tours to some of Argentina's best birding destinations. They are all set in order to give you the best possible services, including accommodations, meals and transportation when needed, and of course the best local birding guides available. Although these tours are focused on birds, you will also get the chance to see different kinds of fauna and flora, visit some of the most incredible landscapes and have an insight of the real Argentine culture and its huge diversity.

The following tours can be combined together to fulfil your preferences for your next birding journey in this wonderful Country. Please contact us for more information.

____________________________________________________________________________________

BIRDING CORRIENTES (Iberá wetlands, subtropical grasslands and riverside forests!)
The province of Corrientes, located in the north-east of Argentina, it's a privileged place for nature lovers. With endangered ecosystems such as subtropical grasslands, enormous wetlands and rich riverside forests in the margins of large rivers such as the Uruguay and Paraná, it shows an astonishing biodiversity, giving very good and easy birding opportunities.

We offer a tour that combines all these ecosystems. Staying in Estancia Virocay, a cattle ranching estancia that uses sustainable practices and protects the endangered native grasslands from being modified for forestry plantations, we will focus on the also endangered birds of this declining habitat. The estancia has the best level accommodations available in the area, with about 5000 hectares of land, also protecting patches of rainforest and wetlands. Here the specialties are a lot, and we will be looking for grassland birds such as the Streamer-tailed Tyrant, Sharp-tailed Tyrant, Ochre-breasted Pipit, Pearly-bellied Seedeater, Lesser Grass-finch, Wedge-tailed Grass-finch, Yellow-rumped Marshbird and the beautiful Saffron-cowled Blackbird. Greater Rheas, Red-winged Tinamous and Spotted Nothuras are very common here too, and aquatic birds such as the Muscovy Duck also find a good refuge in the estancia. The rainforest patches show a different repertoire of birds, but also are home for the Black Howler Monkey, that can be heard from a very long distance. Red-legged Seriemas can be found with a bit of luck near the small plantations of Yerba Mate (a very popular local infusion). At night, the dirt roads of the area and the trees around the estancia offer good chances to spot the Common Potoo.

From the estancia we will make a full day tour to one of Corrientes most renowned ecosystem: the Iberá wetlands (or "Esteros del Iberá", as we say in Spanish). This is the second largest wetland in South America, and one of the greatest safari places in Argentina. We will visit a part of it where most of the people (tourists) never get, which increases our chances to finding rarities. Among the birds we will be looking for the rare Strange-tailed Tyrant (a very local specialty of this place), Crested Doradito, Black-capped Donacobius, Azure Gallinule, Black-collared Hawk, Pinnated Bittern, Least Bittern and the magnificent Jabiru. Other animals of the wetland are the Jacares (caimans), with two species, Capibaras (the largest rodents on earth), the endangered Marsh Deer and the Yellow Anaconda, which is hard to see in the summer. On the way to the wetland we will be travelling across some of the best preserved grasslands in Argentina, by the Aguape-í river. In this place the Black-and-white Monjita and the Pampas Deer, two of the grassland's symbolic species, find one of their very last refuges. In the dusk, an encounter with a Manned Wolf or "Aguará Guazú" is also a possibility.

Also from Virocay, we can visit the riverside forests along the Uruguay river, in order to find different kinds of birds more related with the inner atlantic forest (or Parana rainforest) that grows more lushly in Misiones. Rinforest species such as Planalto Woodcreeper, Swallow-tailed Manakin, Cream-bellied Gnatcatcher, Gray-throated Warbling-finch and Green-winged Saltator are some of the birds that inhabit this habitat.

We strongly recommend to combine Corrientes tour with a tour to Misiones, because of the proximity between them, and the different bird fauna and landscapes that are found on each place.

BIRDING MISIONES (subtropical rainforests and Iguazu falls!)
Originally covered by a lush subtropical rainforest called Parana forest (related to Brazil's Atlantic forest), Misiones is the most biodiverse province in Argentina, and the one with the highest diversity of birds, with over 500 species recorded (half of the birds of the Country). Giving refuge to symbolic jungle animals like the Jaguar, South American Tapir and Harpy Eagle, it is also privileged for its amazing landscapes such as the famous Iguazu falls, shared with the neighboring Country of Brazil and recently declared as one of the new world's 7 natural wonders.

Birding here is just astonishing. Although many of the birds are hard to see because of the lush vegetation and their reclusive behaviours, compared with other rainforests in the world is relatively easier since the canopy layer is not as high as in most of them. There are a lot of endemic birds and other widely spread species too.

We offer a tour that includes some of the best birding spots in the province, mainly in private reserves with very comfortable accommodations and a visit to Iguazu waterfalls.

Staying at Surucuá Reserva & Ecolodge we will be surrounded by wilderness. Combining first level accommodations with great walking trails, this is a full-time birding experience. Specialties are a lot, including some Atlantic rainforest endemics such as Spot-winged Wood-quail, Scale-throated Hermit, Surucua Trogon, Rufous-capped Motmot, Buff-bellied Puffbird, Black-capped Foliage-gleaner, Ochre-breasted Foliage-gleaner, White-shouldered Fire-eye, Streak-capped Antwren, Spot-backed Antshrike, Swallow-tailed Manakin, Chestnut-bellied Euphonia and many others. Among the non endemic highlights are the Black-throated Trogon, Spot-billed Toucanet, White-bearded Manakin, Band-tailed Manakin and, at night, the Mottled Owl which is very tame here. The place borders with Iguazu river, and has a beautiful view of Iguazu National Park in the Argentine side and Do Iguacu National Park in the Brazilian side.

From this place there is the possibility of touring the dirt road that goes through Iguazu National Park, with great opportunities of finding many mores species, and also a tour to Urugua-í Provincial Park is very recommended. This very last place has more endemic specialties, and its forest differs from the one at Surucuá. The endangered Black-fronted Pipin-guan is often seen near the Uruzú river, and scarce antbirds such as Bertoni's Antbird, Dusky-tailed Antbird and Speckle-breasted Antpitta are frequent.

After Surucuá Reserva & Ecolodge we will move south to a different type of rainforest in another new private reserve with great accommodations called Bio-reserva Karadya. This place is located in a higher area with small mountains that shows a more montane-like rainforest with a different repertoire of species. Some of its Atlantic forest endemic specialties include the Tawny-browed Owl, Rusty-barred Owl, Red-breasted Toucan, Saffron Toucanet, Mouse-colored Tapaculo and Black-throated Grosbeak. The endangered Helmeted Woodpecker is also a possibility here. Other more widespread remarkable birds at Karadya are the Brown Tinamou, Small-billed Tinamou, Variegated Antpitta (very hard to see), Rufous Gnateater, Red-ruffed Fruitcrow, and because of its higher altitude it is also a good place for spotting raptors soaring in the sky, such as the Black-and-white Hawk-eagle and other rare crested eagles like the Ornate Hawk-eagle and more.

From this place there is the possibility of visiting the araucaria tree forests located southwards, a very endangered kind of forest that also gives refuge to endangered birds such as the rare Vinaceous-breasted Parrot, the Araucaria Tit-spinetail and the Azure Jay, among many others.

But a tour to the province of Misiones would not be complete without visiting the Iguazu falls, one of the most incredible landscapes in the world. Located inside of Iguazu National Park, it also has many species of birds that can be seen but since the other places mentioned before have almost the same species and even more, we recommend to relax and feel the one of a kind experience of being in such an astonishing place. Birds like the Toco Toucan, Chestnut-eared Aracari, Plush-crested Jay and Red-rumped Cacique are common near the paths and can be easily seen anyway. This Iguazu falls tour can be made either at the beginning or the end of Misiones tour. And all of this can be perfectly combined with a Corrientes tour in order to have a once on a lifetime full northeast Argentina birding experience.

BIRDING NORTH-WEST ARGENTINA (montane rainforests, chaco and puna in Salta and Jujuy provinces!)
The north-west of Argentina is probably the most diverse area of the Country in terms of different landscapes and habitats. From east to west the different ecosystems change very much in relatively short distances, starting at Chaco forest, then the Yungas (montane rainforest), Prepuna (a dry desert with bushes and large cactus), Puna (an even drier and higher desert) finally ending in the high Andes.

We offer tours that include almost all of these ecosystems, with their specialties, focused in the montane forest and Prepuna & Puna endemics. The montane forest in Salta and Jujuy hosts species such as the Solitary Eagle, Black-and-chestnut Eagle, Red-faced Guan, Large-tailed Dove, White-throated Quail-dove, Golden-collared Macaw, Alder Parrot, Hoy's Screech-owl, Yungas Pygmy-owl, Lyre-tailed Nightjar, Blue-capped Puffleg, Speckled Hummingbird, the tiny Slender-tailed Woodstar and the magnificent Red-tailed Comet. The rapids on the many water streams and rivers that flow across the montane forest are home for the Torrent Duck and the almost endemic Rufous-throated Dipper. Other specialties include the Smoky-brown Woodpecker, Giant Antshrike, White-throated Antpitta, Mountain Wren, Spotted Nightingale-thrush, Glossy-black Thrush, Black-backed Grosbeak, Fulvous-headed Brush-finch and the Argentine endemic Yellow-striped Brush-finch. This is the second most biodiverse ecosystem in the Country.

The Prepuna and Puna host a totally different kind of species, with lots of specialties such as the Puna Tinamou, Puna Ibis, Andean Condor, Andean Flamingo, Puna Flamingo, Andean Goose, Puna Teal, Andean Avocet, Puna Plover, Andean Hillstar, Wedge-tailed Hillstar, Giant Hummingbird, Andean Flicker, Puna Miner, Creamy-breasted Canastero, Tawny Tit-spinetail, Streak-fronted Thornbird, Brown-backed Mockingbird, Red-backed Sierra-finch, Black-hooded Sierra-finch, Bright-rumped Yellow-finch, Citron-headed Yellow-finch, Puna Yellow-finch, Rufous-bellied Saltator, Black Siskin and many more.

The different birding possibilities in this region are a lot, including places such as Yala, Calilegua National Park, Quebrada de Humahuaca and Abra Pampa in Jujuy, and El Rey National Park, Sierra de Santa Bárbara and Quebrada de San Lorenzo in Salta. All of these places combine excellent birding with a real insight to the originary andean culture. Contact us for more information about tours to this amazing part of Argentina.

BIRDING NORTH-EAST PATAGONIA (Argentina's endemics in Monte ecosystem, migratory waders and pelagic birds in San Matías gulf!)
Patagonia is one of the most attractive nature destinations in South America, for its amazing landscapes and pristine wildlife. The north-east of Patagonia in the province of Río Negro lays in the Argentine endemic ecosystem called Monte, a desertic scrubland that is home to most of this country's endemic fauna, especially birds. It also lays in the coast of San Matías gulf, the largest and most biodiverse of the north patagonian gulfs, with species that include marine mammals such as Southern Right Whale, Orca, Dusky Dolphin and South American Sea Lion.

We offer a tour that combines the Monte endemic specialties with shore and pelagic birds in San Matías gulf's coast and offshore, while staying in very comfortable accommodations near the beach in the town of Las Grutas.

Entering the Monte, we will be looking for the endemics Patagonian Canastero, White-throated Cacholote, Sandy Gallito, Rusty-backed Monjita and Carbonated Sierra-finch. More specialties of this place (although not endemic) include the Elegant-crested Tinamou, Spot-winged Falconet, Common Miner, Scale-throated Earthcreeper, Bar-winged Cinclodes, Sharp-billed Canastero, Cordilleran Canastero, Plain-mantled Tit-spinetail, Tufted Tit-tyrant, Greater Wagtail-tyrant, the rare Hudson's Black-tyrant, Black-crowned Monjita, Lesser Shrike-tyrant, Chilean Swallow, Patagonian Mockingbird, Mourning Sierra-finch, Patagonian Yellow-finch, Common Diuca-finch, Long-tailed Meadowlark and the critically endangered Yellow Cardinal which still has a healthy population in the area. Other symbolic species besides the birds are the Guanaco and the Mara, which is also endemic to Argentina.

In the towns of Las Grutas and San Antonio Oeste, as in most of the towns in the area, give refuge to other typical patagonian birds that need more vegetation and water to survive, such as the Austral Thrush and Black-chinned Siskin, also serving as a breeding area for the Southern Martin that is found in the summer season.

Another Monte specialty is the Burrowing Parrot. This species deserves a special mention since not far away from this place there is the largest world's parrot breeding colony, belonging to this bird that nests in the cliffs of San Matias gulf. Over 500,000 burrowing parrots use the cliffs of the northern coast, and can be easily seen near the town of El Condor at the correct time of the year (the austral spring and summer).

The coast of the gulf is a totally different ecosystem, with also different bird species. Here we will be looking for both resident and migratory species. Among the resident specialties there is the Chilean Flamingo (although it makes migrations for breeding, we can find them here throughout the year), Crested Duck, Flying Steamer-duck, Two-banded Plover (although a part of its population migrates northwards in the winter), the endangered Olrog's Gull (more common in the winter), Snowy-crowned Tern, South American Tern, Sandwich Tern and Royal Tern. In the sea lions colonies during the winter is very likely to find the Snowy Sheathbill and the beautiful Dolphin Gull. But the migratory species are probably the most attractive ones. In the beginning of the spring and the end of the summer, lots of migratory waders make an important stop in the area of San Antonio bay. Species such as Greater and Lesser Yellowlegs, Ruddy Turnstone, Sanderling, Red Knot, Whimbrel, and Hudsonian Godwit can be seen in the bay's area. But in the winter a different set of visitors arrive, with specialties including the Rufous-chested Dotterel and the rare Magellanic Plover.

Finally, a pelagic (on board) tour in the gulf will be a great opportunity for finding some of the south-west Atlantic bird specialties such as Black-browed Albatross, Southern Giant-Petrel, White-chinned Petrel, Sooty Shearwater, Great Shearwater, Cape Petrel, Southern Fulmar, Blue-eyed Cormorant, Antarctic Skua and more. It is also a good way to see the behavior of the Magellanic Penguin in the sea, with its very fast swimming. It is a very common bird in the area and has its northernmost breeding colony in the coast of the gulf. In addition, during this tour it is very usual to see marine mammals such as enormous groups of Common Dolphin and smaller groups of the acrobatic Dusky Dolphin, among others.

The combination of all of these different species makes of this part of Patagonia a unique place and a top birding destination.

Please contact us for more information regarding tour possibilities to this incredible area.
GO TOP